Home / Visitors /
Exhibitor List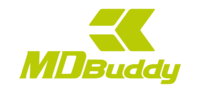 NANTONG MODERN SPORTING INDUSTRIAL CO., LTD.
Founded in 2006, Nantong Modern Sporting Industrial Co., Ltd. is located in Nantong Jiangsu which is just outside of the most developed city in China, Shanghai. Easy transportation and abundant resources have provided us solid foundation for us to grow.
Nantong Modern is a rapidly growing business providing sporting products along with full services of design, development, manufacturing, sales and marketing. "Honesty, Passion, Dedication, and Gratitude" are our core values. With a modern, progressive mindset, Nantong Modern is focusing on making innovative, high quality sporting products to meet and exceed market demands.
After sixteen years of fast-paced growth, Modern products are sold to over 80 countries and territories worldwide. Our brand "MDBuddy" has distributors in many countries, with over 1,000 fitness facilities in China itself using MDBuddy products. Many of our products, which have established product quality are widely accepted and trusted by customers all over the world.
Nantong Modern wants to be the frontrunner in sporting goods industry by making fitness more modern, with quality products and excellent service. We will continue to work hard to expand our offering and look forward to becoming your business partners!
1. AGILITY&SPEED:JUMP ROPE、REFLEXBALL、AGILITY L ADDER、SPEED CONES.
2.BALANCE&STABILITY:GYM BALL、YOGA FOAM ROLLER、YOGA BRICK、YOGA MAT.
3.RESISTANCE&EXPLOSIVENESS:TRAINING SET、RESISTANCE BAND、RESISTANCE BAR、SUSPENSION SYSTEM、TRAINING GLOVES.
4.REHABILITATION&RELAXATION:HAND GRIP、FLEX BAR、WEIGHTED BAR、MASSAGE STICK、MASSAGE BALL、PILATES RING、MEDICINE BAR.
5.STRENGTH TRAINING:PLATE、DUMBBELL、DUMBBELL SET、KETTLEBELL、BARBELL、PUMP SET、
BAR、POWER BAG、SPEED VEST.
6.AUXILIARY&ACCESSORIES:SPORTS GLOVES、EXERCISE WHEEL、COLLAR、ATTACHMENT BARS.
7.ASSORTED EQUIPMENT:DUMBBELL RACK、BARBELL RACK、KETTLEBELL RACK.
| | | |
| --- | --- | --- |
| Address | : | NO.80 Wai Huan East Road,Nantong,Jiangsu 226007,P.R.China |
| Telephone | : | 400-8771-558 |
| Fax | : | 0086-513-85112828 |
| Email | : | sales@modernsporting.com |
| Website | : | http://www.modernsporting.com/ |